If you are going for a walk, be well equipped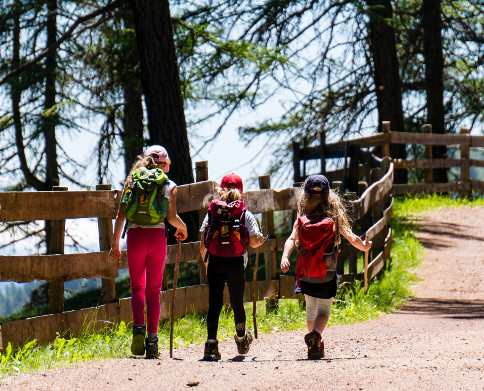 Footwear is a key item if you are going for a walk. Taking care of your feet frequently avoids the appearance of wounds and blisters. Your footwear should be comfortable, breathable and flexible. You should never wear brand new shoes while hiking. Make sure they have a low heel and that they support the ankle well.
Wear comfortable, loose-fitting, breathable clothing made of natural fabrics. Always protect your head from the sun with caps or hats to avoid sunstroke and heat stroke.
It is not advisable to force the pace of your hike or make sudden changes of rhythm, as this can cause muscle cramps and strains. Do not exceed 5 km per hour, take short breaks every 5 km and avoid walking during the hottest hours of the day.
Carry water and stay well hydrated. Do not wait until you are thirsty.
If you are going for a walk at night, make yourself visible. Remember that it is convenient to wear light clothes and it is mandatory to carry a luminous or reflective item that is visible at a minimum distance of 150 meters for approaching drivers.
Include in your bag a small first aid kit with material for minor cures and include a lip balm and sunscreen lotion, as well as a bottle of hand sanitizer, to ensure frequent hand hygiene in the absence of water and soap.
Take your mobile phone with you and have the phones available to call for information or help before and during the walk. In case of emergency, call the emergency phone 1-1-2.